Halden Wofford and the Hi*Beams' throwback and stylish take on the honky tonk genre is a breath of fresh air amidst other wannabe retro acts. With some of the choicest players on the Front Range and a professionalism that is bar-none, the Hi Beams landed themselves on the famed NPR show "A Prairie Home Companion" in recent years and Wofford's distinct vocals continue to garner the band well-earned attention. - Marquee Magazine, Boulder, CO
One of Colorado's most popular and enduring acts, the Hi*Beams celebrated ten years together in 2010. Rootsy but not revivalist, the Hi*Beams' rollicking stage act features rocked-up Texas honky tonk and western swing, equal parts original and classic.
News
As many of you know, in Halden's secret life he is an illustrator, sometimes working for Colorado clients like New Belgium Brewery, for whom he's done conceptual drawings for beer labels.
Recently he had the opportunity to create an animation (something he hasn't done since his animating classes in 1987!) for the brewery's Clips of Faith Film Festival. Based on a phone call to New Belgium by one of Fat Tire's biggest fans, it gets funnier the more you watch it.
Email List
appearing next
Thu, May 31
Thursday Night Live
Fort Collins, CO
Sat, Jun 09
Oskar Blues (Boulder)
Boulder, CO
view calendar
latest cd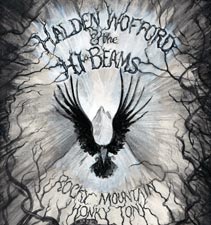 Rocky Mountain Honky Tonk (2013)Listen/Buy